On October 11th I have gone with my family and some friends to Morella (Castellón). We went to visit the castle that had this interesting town full of stories and curiosities.
We were in the car for 2 hours, which in my opinion was torture to be locked with a belt tightening you and to be watching my father's backrest all the time since he was driving in front and I was behind. When we were already driving for a while, at the end we saw a town seemed to me like a pyramid with a wall that surrounds it, point in the distance it looked like houses. They were so close together that I could even jump from roof to roof, I was already imagining it.
We walked a lot until we reached the top of "pyramid", where the castle was very well preserved with its walls, rooms, even interior churches with sculptures of Christ and secret passages, there were cannons. My best friend and I went on our own and there was a moment when we got lost and saw our parents and siblings, we started to cry and cry.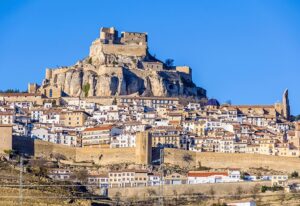 David T. 6th grade