BOOK REVIEW
INFORMATION ABOUT THE AUTHOR
Roald Dahl was a spy, ace fighter pilot, chocolate historian and medical inventor. He was also the author of Charlie and the chocolate factory, Matilda, the BFG and many other brilliant stories. He remains THE WORLD'S NUMBER ONE STORYTELLER.
PLOT
Charlie, his family and Will Wonka are in the great glass elevator and suddenly Charlie press a bottom and they appear at the Space Hotel.
After some adventures in the space, they decided to return with the elevator to the Earth. Once there, the grandparents of Charlie eat "Wonke Vite", pills that make you years younger.
PERSONAL OPINION
I liked this book because Charlie and his family solved their problems together.
The part I liked the most was when Charlie and Willy Wonka worked together to create the new pills. And the part of the book that I didn't like was when they are in the space. I recommend this book to my classmates because it was really entertaining.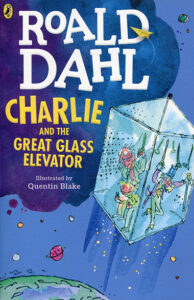 Valentino B. 5th grade.